Oscar Schindler's tour (private tour)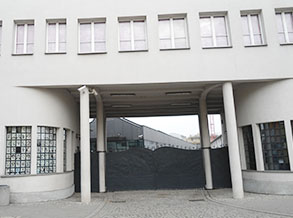 The tour includes a visit to the Museum Oskar Schindler located in the district of Krakow where there was a ghetto called Podgorze. You will see the central square and a fragment of the original ghetto walls which survived to the present day. Then visit the place where once there was a concentration camp in Plaszow and where not far away, today stands the house of Amon Goeth.
As with all of our tours, your driver will pick you up from the location of your choice.
The trip itself lasts approximately around 4 hours.
The price from 69,- PLN (depending from the number of people) includes:
hotel pick-up
transportation
English speaking driver
audio giude during the tour in Polski, English, Français, Español, Italiano, Deutsch
entrance fee
visiting O. Schindler's Museum in Kraków
beverage (water - still/sparkling one, Coca-Cola, Pepsi)
Additional fees:
If You would like to make this tour longer than 4 hours, please let the driver know during the tour - is possible for extra charge 50 PLN/1 hour to the driver
Tour available daily, however museum of O. Schindler's close every first monday of the month.