Czestochowa (Black Madonna) tour (private tour)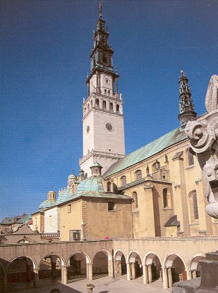 Czestochowa, and more specifically, Jasna Gora, located 110 km from Cracow, is home to the monastery which houses the miraculous painting of Our Lady of Czestochowa: the Black Madonna.
As with all of our tours, your driver will pick you up from the location of your choice.
The trip itself lasts approximately 6-8 hours and includes a private guided tour of the Pauline monastary in the language of your choice. The tour includes the Chapel of The Virgin of Jasna Góra housing the icon of The Black Madonna, the Church of The Holy Cross as well as defensive structures surround the monastery, such as the defensive wall, gates and bastions. Your driver will be waiting for you, at your drop off location when you are ready to return to Cracow.
The price from 99,- PLN (depending from the number of people) includes:
hotel pick-up
transportation
English speaking driver
entrance fees and guide in chosen language (Polski, English, Français, Español, Italiano, Deutsch, Russian, Ukrainian, Magyar and Slovenský)
visiting The Chapel of the Miraculous Painting of Our Lady, The Basilica of Jasna Góra, The Knights' Hall, The Treasury, The 600th Year Anniversary Museum of Jasna Góra, The St. Roch Bastion, The Arsenal, The Tower of Jasna Góra
free time around 1 hour
beverage (water - still/sparkling one, Coca-Cola, Pepsi)
Additional fees:
If You would like to make this tour longer than 8 hours, please let the driver know during the tour - is possible for extra charge 50 PLN/1 hour to the driver
All museum parts opening hours:
from March 1 – October 31 from 9:00 am - 5: 00 pm
from November 1 - February 29 from 9:00 am - 4:00 pm
Tour available daily