Auschwitz-Birkenau & Salt Mine Wieliczka tour (regular tour)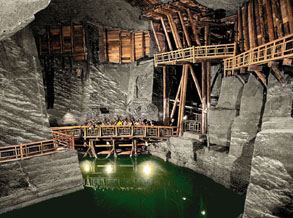 As with all of our tours, your driver will pick you up from the location of your choice.
Tour the infamous Nazi extermination camp located in Oswiecim (Auschwitz), about 70km away from Cracow.
The trip itself lasts approximately 10,5 hours and includes a ticket for the general English guided tour to the Auschwitz Historical Museum (around 2 hours) , Birkenau second part of the Museum (around 1 hour) and the guided tour in the Salt Mine (around 3 hours). Before sightseeing the Salt Mine we estimate lunch break about 1 hour.
The tour includes all permanent exhibitions and buildings at Auschwitz I (main camp) and the most significant original buildings at Auschwitz II Birkenau: the prisoner barracks, the unloading platform (ramp), the ruins of gas chamber, crematoria II - III and the Wieliczka Museum after lunch break.
The price 239,- PLN per person includes:
pick-up point(from office) - hotel pick-up 249,- PLN per person
transportation
English speaking driver
movie underway
entrance fees
English guide (Museum Employee)
beverage (water - still/sparkling one, Coca-Cola, Pepsi)
Discounts for students and groups available
Family tickets
Additional fees: 15PLN: Lunch Box (price per person)